Music of Love and Loss in the Shadow of the Thirty Years' War
Agave Baroque (expanded band) with countertenor Reginald L. Mobley
The Thirty Years' War cast a pall of death and destruction over the German lands. That bloody soil proved amazingly fruitful, producing an outpouring of some of the richest, deeply emotional, and personal musical works of the Baroque. Countertenor Reginald L. Mobley, Agave Baroque, and guest artists present a program of music of love and loss, heartfelt sorrow, and abiding hope in the works of Johann Christoph Bach, Matthias Weckmann, David Pohle, and Samuel Scheidt.
Agave has recorded this program with VGo Recordings, for a forthcoming release, Fall 2016.
Queen of Heaven
For detailed information and sound samples, click here
Like many young women from well-to-do families, Isabella Leonarda (1620-1704) was forced into a convent at the age of sixteen. At the Collegio di Sant'Orsola, Leonarda received an education, musical training, and the opportunity to compose professionally that otherwise wouldn't have been possible for a woman in 17th century Italy. Leonarda was one of the must influential women composers of her time, whose instrumental and sacred writing defied many established conventions.
Agave Baroque teams up with phenomenal countertenor Reginald Mobley for some rarely performed sacred and secular music that is energetic, inventive, touching, and possessing of a truly original energy.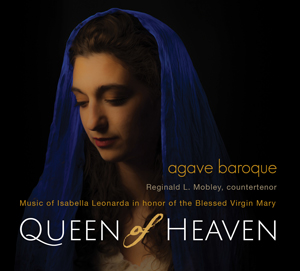 Friends of Ferdinand
Schmelzer and Bertali at the Court of the Holy Roman Emperor
In addition to being virtuoso composers and violinists, Johann Heinrich Schmelzer and Antonio Bertali maintained close musical, social, and political ties with their employers, Holy Roman Emperors Ferdinand III and Leopold I. This program centers around works from the great collection Prothimia suavissima which includes works by both composers, as well sonatas for violin, viola da gamba, and continuo by both composers, and his beloved Chiacona, Schmelzer's touching Lamento sopra la morte Ferdinandi III, and works by Marco Antonio Ferro, Augustinus Kertzinger, Johann Jacob Froberger, Giovanni Battista Granata, and Kaiser Leopold I, himself.
Prothimia Suavissima, Parte Seconda: Sonata VII
Antonio Bertali (1605 - 1669)
Sonata I from Prothimia Suavissima (part II)
J.S.A.B. (Johann Schmelzer/A. Bertali)
Sonata variatia à due
Johann Henrich Schmelzer (ca.1620-1680)
Sonata Op. 1, no. 10
Marco Antonio Ferro (1600-1662)
Sonata à due for violin, viola da gamba, and basso
Bertali
Ballo per Apollo e per le Muse from La Lira d'Orfeo

Intrada
Tordiglione
Boure
Retirada

Leopold I, Holy Roman Emperor (1640-1705)
Suite no. 12 in C major

Allemande: Lamento sopra la dolorosa perdita della Real Maestà di Ferdinando IV Rè de Romani
Courante
Sarabande
Gigue

Johann Jakob Froberger (1616 –1667)
Lamento sopra la morte Ferdinandi III à tre
Schmelzer
Sonata X from Prothimia Suavissima (part I)
J.S.A.B.
Sonata di Chittarra, e Violino, con il suo Basso Continuo
Giovanni Battista Granata (ca.1620-1687)
El Sabor del Agave
Raucous dances and refined sonatas of baroque Spain and its territories
The vast Spanish empire of the sixteenth through eighteenth centuries extended from Spain into Italy, Mexico, and South America where it freely exchanged a rich variety of music. Pieces by Santa Cruz, Falconieri, Jerusalem, De Murcia, Blasco, and others reveal the unique Spanish flavor of this intriguing repertoire.
The Otherworldly Fiddler
The Sacred and Profane meet at Heinrich Biber's Musical Table
Perhaps the greatest violin virtuoso of the 17th century, Bohemian fiddler Heinrich Ignaz Franz Biber crafted his compositions in a style that might be described as a dinner party of disparate sound worlds. His scrumptious Mensa Sonora, seu Musica instrumentalis, is "civilized" Biber, for mealtime and after dinner entertainment. His virtuosic Harmonia artificioso-ariosa employs a rustic folk-fiddle style and demands alternate tunings and techniques. Agave Baroque performs selections from these fascinating collections, as well as works that fearlessly explore the nexus of sacred and profane: Biber's 1682 masterpiece Fidicinium sacro-profanum, Johann Heinrich Schmelzer's stunning Sacro-profanus concentus musicus, and similarly themed works by Antonio Bertali.
Sonata III from
Fidicinium sacro profanum
Heinrich Ignaz Franz Biber (1644 - 1704)
Pars IV, from Mensa Sonora


Sonata. Grave -- Allegro
Allamanda
Courante
Balletto
Sarabanda
Gigue. Presto
Sonatina

Biber
Sonata IX from
Sacro profanus concentus musicus
Johann Heinrich Schmelzer (1623 - 1680)
Partia V, from
Harmonia artificioso ariosa

Intrada. Alla Breve
Balletto. Presto
Gigue. Passacaglia

Biber
Sonata á 4
Antonio Bertali (1605 - 1669)
Intermissio
Sonata á 6, "Tausend Gulden"
Bertali
Sonata "Pastorale"
Schmelzer
Sonata I from
Fidicinium sacro profanum
Biber
Partia VI from
Harmonia artificioso ariosa

Praeludium. Adagio - Allegro
Aria -- Variatio
Finale. Adagio -- Presto

Biber
Bach's Italian Foremothers
This program features vibrant and expressive solo motets, cantatas, and sonatas from both sides of the Alps. Instrumental and vocal works by influential composer nun Isabella Leonarda begin the journey, which Agave traces north through the works of Rosenmüller and Legrenzi, and into Germany, where we find works by Johann Christoph, and the great Johann Sebastian Bach. Agave teams up with the phenomenal Boston-based countertenor Reginald Mobley, who possesses "crystalline diction and pure, evenly produced tone" (Miami Herald).
Cold Genius
The music of Henry Purcell and his contemporaries
Commissioned by The Museum of Jurassic Technology in Los Angeles and premiered in January of 2010 in the Museum's Tula Tea Room, Agave Baroque's Cold Genius centers around the intensely engaging music of Henry Purcell and contemporaries from Restoration era England. Fantasia, sonata, song, and dramatic work by Purcell, plus two enchanting and rarely performed Harp Consorts by William Lawes, a ravishing suite by Matthew Locke, and two rustic and virtuosic arias by Nicola Matteis. Agave recorded this album in surround sound in the spectacular new Green Music Center with award winning producer/engineer David v.R. Bowles of Swineshead Productions, LLC. Released 6/10/2012.
The Staircase Overture
Henry Purcell (1659 - 1695)
Fantazia No. 3 in G Minor
Purcell
Fantazia No. 1 in D Minor
Purcell
Trio-Sonata for violin, bass viola da gamba, and organ


Adagio -- Allegro -- Largo -- Vivace

Purcell
Dramatic Suite


Frost Scene from King Arthur
Trumpet Tune from King Arthur
Third Act Hornpipe from King Arthur
"If Music be the Food of Love"
Rondeau from The Faery Queen
"Fairest Isle" from King Arthur

Purcell
arr. Agave Baroque
Intermission
Harp Consort No. 8 in G Major


Pavan -- Divisions on the Pavan

William Lawes (1602 - 1645)
Loves Farewell
Tobias Hume (c.1569 - 1645)
Suite No. 6 in A Minor-Major


Pavan -- Ayre -- Courante -- Fantazie
Ayre -- Courante -- Jigg

Matthew Locke (1621 - 1677)
The Old Spagnoletta
Giles Farnaby (c.1563 - 1640)
Ayres I and II
Nicola Matteis (1670 - 1698)
Harp Consort No. 1 in G minor


Alman
Corant
Corant
Saraband
Fire and Ice
A whirlwind tour of virtuosic string music from the highlands of Scotland to the palaces of Scandinavia and the court of Catherine the Great. Italian influences blend with native folk idioms to create music that is elegant and refined yet often surprising and unpredictable. The program includes works by MacLean, Petersen, Sidon, Freithoff, Roman, and Khandoshkin.